6th Jožef Stefan International Postgraduate
School Students' Conference
May 20. - 21., 2015
IPS Ljubljana, Slovenia
Students are invited to present their work in a 6-10 page paper size A5 and a poster size A1, written in English or Slovene. Papers and posters will be published in two separated proceedings due to different format.
Please note that the content of the paper submitted to the IPSSC Conference does not have to be new or unpublished research. The paper emphasis is on the application point of view of your research. Remember we are trying to present our research to the industry. Take a look at the paper guidelines below for detailed information.
Note also that a submission consists from a paper AND a poster. You are not allowed to submit only one of them.
Paper Guidelines
The paper should contains 5-9 pages of scientific text and 1 page of more general abstract. Please see the template with detailed instructions. Figures in your paper can be in color, since the proceedings will be printed in color.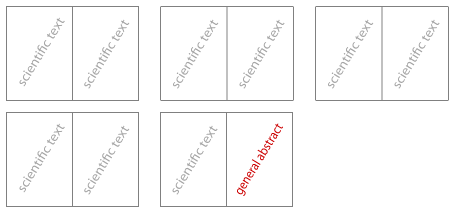 Poster Guidelines
Please follow the instructions below closely:
Poster size is A1 (594 x 841 mm).
All posters must have the IPS header.
Author must put the following information on the poster: name, surname, school, programme, mentor, and author's picture.
All posters are required to conform to portrait orientation.
Prof. Kornhauser recommends that the poster is divided in scientific and application part.
Posters should be clear and easy to read. Type size should be sufficiently large to allow people to read from 2 meters.
Posters will be printed in color by us.
An example poster is available
here
.
If you have any questions concerning the preparation of your paper/poster please contact us via .
Submission
The authors should submit paper in .doc, .docx or .pdf file format and poster in .ppt, .pptx or .pdf file format using the easyChair conference system, not later than March 31, 2015. For login, please use your existing easyChair account. If you do not have an account, then please register for an easyChair account.
When you are logged into easyChair, you should click the New Submission link. There you input the authors of your paper and poster. You also include the title, the abstract and the programme you are enrolled in. After that you input at least three keywords of your research. Finally, you select the paper from your local hard drive and upload the poster as an attachment. After that you click on Submit, and you are done submitting your contribution.
News
March 27, 2014:
Invited speaker announcment
We are glad to inform you that after conference opening, Prof. David Probert, Head of Centre for Technology Management research from University of Cambridge will give a talk on applying research work in industry. The talk will be held on 20th of May in Large Auditorium of Jožef Stefan Institue.

March 27, 2014:
Extended Submission Deadine
Due to several requests we have extended the submission deadline till April 7th, 2014. To submit a paper please use the Submission link at the top of the page.

February 19, 2014:
Conference Announcement
We proudly announce the 6th IPSSC conference. We invite all interested students to participate in organizing this meeting.

Important dates
The conference:
May 20. - 22., 2014

Camera ready papers:
April 28, 2014

Acceptance notification:
April 21, 2014

Extended submission deadline:
March 31, 2014
April 7, 2014

Paper submission:
March 31, 2014

Organized by
Jožef Stefan
International Postgraduate School's
Student Council
Jožef Stefan
International Postgraduate School